The Mesopotamian campaign is a forgotten chapter in an overlooked theatre of the Great War. British forces looking to protect oil supplies from Arabia, moved into the Ottoman province of modern-day Iraq, seizing Basra and moving up-river for Baghdad until they ran into serious Ottoman resistance and were rolled back with over 8,000 soldiers being isolated in the town of Kut.
Desperate but futile relief efforts were made, hampered by terrible weather and tactical negligence, leading to vast losses for British and Indian troops before the garrison at Kut was forced to surrender, many subsequently succumbing during harsh captivity. It is considered the worst defeat suffered by the British during the whole war.
Aviation played a major part in the campaign with reconnaissance flights proving very useful for the British forces before German Fokker Eindeckers arrived in theatre and were able to disrupt the recon flights as well as embarking on a bombing campaign over Kut.
There isn't much specific detail available about their use around Kut. In 1916 these 'bombs' would likely have been simple hand-held grenades dropped from the cockpit. Even the colours of the planes are debated, only monochrome pictures existing. I'm going with a light buff colour as many of the type carried and it would make sense as light camouflage in-theatre.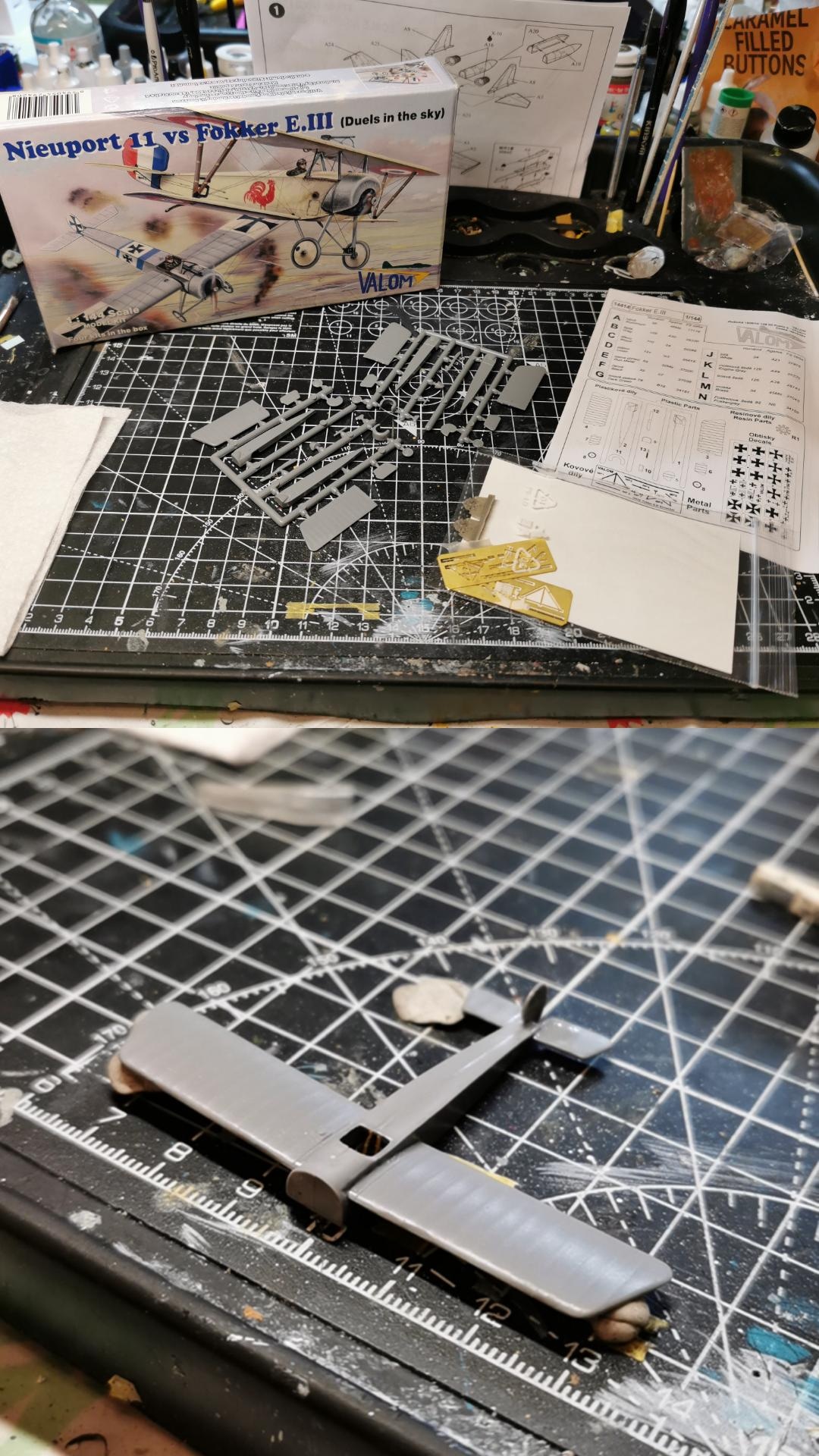 The kits are Valom from their Great War series. Like their others they come in a single sprue of plastic, along with a big sheet of etch and a random resin engine.
The Turkish squares were simply painted - over German crosses, somebody concerned that flying crosses in the Middle East might give the wrong idea. Accordingly I went for a hand-painted look and slighly faded so on one plane the original German cross can be made out.
These kits use a lot of photo etch and need a lot of rigging too. I can't say I followed rigging guides too strictly for the underside, since the planes will be firmly stuck in place anyway, but should at least be representitive and the upper is based on photos and guides, all using 0.03mm Uschi line.
All my planes get a base, but this was a particularly fun one. I was originally expecting a sandy desert scene, but accounts of this battle refer to endless rains and mud that so badly hampered British relief efforts, so I tried to capture this in the scene, along with the incongruous bursts of colour seen in the desert after rain.
So my first Great War vignette was completed with the addition of some suitable figures and general debris.